2013 JCB TLT30D Teletruck 14,000 Hours Excellent Condition Refurbished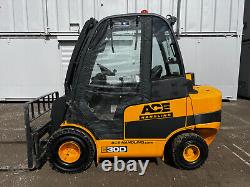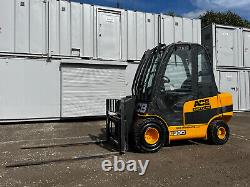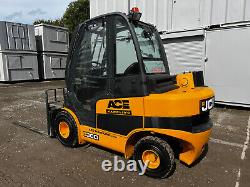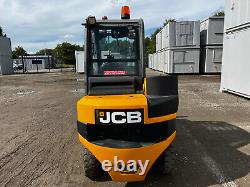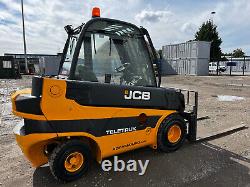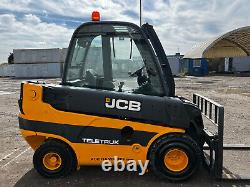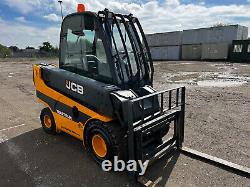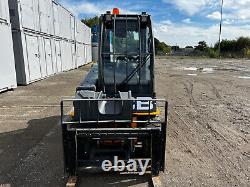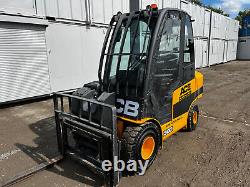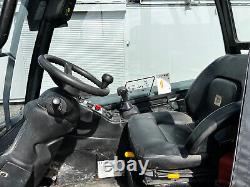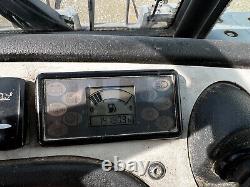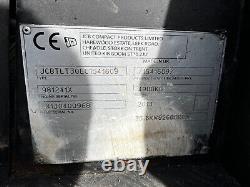 Your specialist in Portable Cabins, AV Units & Modular Buildings. 2013 - JCB TLT30D Teletruck. This is a well looked after 2013 - JCB TLT30D Teletruck, 6' Forks, 2 x Keys & Full Service History. Only ran for 14,780 Hours. Jordan - 07837 204 680.
The compact Teletruk TLT30 offers a maximum lift capacity of 3,000 kg, upto a maximum height of 4 m, and can lift 2,000 kg max at 2 m reach or the far side of a lorry. Designed for the construction industry in mind. The compact design makes it ideal for working in building supplier yards, utilities environments, nurseries, garden centres and scaffolding depots.
The JCB Teletruk is powered by either a Perkins 37 kW (50 hp) diesel engine. Our unique telescopic boom offers many benefits including: - Enabling goods to be loaded and unloaded from one side of a lorry bed, saving 50% space within the loading area and eliminating the need for fork extensions, long forks or hydraulic forks.
Unrivalled visibility due to its none obstructive mast giving a clear view of staff and customers. Access materials stored in the second and third rows in one operation. Weight Approximately - 4,900 kg. All of our items are advertises elsewhere and therefore can be taken from sale at any time.
Every effort has been made to ensure the accuracy of the above information but errors may occur. All items are subject to VAT at the current rate of 20%. Viewing can be arranged on an appointments basis only. All of our units are located at our site in Manchester. Be it a small single steel store or a multi-unit office complex of double stacked and linked portable buildings we have both the knowledge and expertise to ensure that your portable building arrives, on time, safely and within your budget. We also have full loading facilities at our centrally located UK depot should you wish to arrange your own collection. Make arrangements for the redelivery of the Goods and will charge you for the costs of such redelivery; and / or. If redelivery is not possible as set out above, you must collect the Goods from our premises and will be notified of this. We can deliver the Goods by instalments, which will be invoiced and paid for separately. Each instalment is a separate contract. In our purpose built workshop we carry out full refurbishment and modifications including joinery, plumbing & electrical services etc... We carry out high quality design and decoration to reflect current and future corporate branding. Capable of not just breathing new life into old cabins and containers, but modifying and equipping them to meet a variety of specific needs and new business requirement. Whether you are looking for a refurbished AV Unit or Container suitable for your next work project, or are looking to modify one, CLI Manchester is proficient in everything from installing new dividing partition walls and plumbing, to completely remodelling Cabins and Containers into fully equipped site Canteens & Kitchen Units etc... We pride ourselves on attention to detail when refurbishing and renovating all of our Units. The modifications we can offer are extensive, below are just a few examples. Respray In your Company Colours.
N our purpose-built workshops we carry out full refurbishment and reconfiguration of our customers stock including joinery, plumbing and electrical services. We carry out high-quality design and decoration to reflect current and future corporate branding.
Monday - 7am to 4.30pm Tuesday - 7am to 4.30pm Wednesday - 7am to 4.30pm Thursday - 7am to 4.30pm Friday - 7am to 4.30pm Saturday - Closed Sunday - Closed Company Registered in England & Wales No. The headings in these Terms and Conditions are for convenience only and will not affect their interpretation. Words imparting the singular number include the plural and vice-versa.
The description of the Goods is set out in our sales documentation, unless expressly changed in our quotation. In accepting the quotation, you acknowledge that you have not relied upon any statement, promise or other representations about the Goods by us. Descriptions of the Goods set out in our sales documentation are intended as a guide only.
We can make any changes to the specification of the Goods which are required to conform to any applicable safety or other statutory or regulatory requirements. All Electrics are supplied untested and therefore it is the purchaser's responsibility to seek the appropriate advice from a qualified professional before use. The price (Price) of the Goods is set out in our quotation current at the date of your order or such other price as we may agree in writing, or verbally. Any increase in the Price under the clause above will only take place after we have told you about it. You may be entitled to discounts.
Any and all discounts will be at our discretion. Details of the Goods as described in the clause above (Goods) and set out in our sales documentation are subject to alteration without notice and are not a contractual offer to sell the Goods which is capable of acceptance. The quotation including any non-standard price negotiated in accordance with the clause on Price (above) is valid for a period of 14 days only from the date shown in it unless expressly withdrawn by us at an earlier time.
Either of us can cancel the order for any reason prior to your acceptance (or rejection) of the quotation. We will invoice you for the Goods either. If you do not pay within the period set out above, we will suspend any further deliveries to you and without limiting any of our other rights or remedies for statutory interest, charge you interest at the rate of 4.0% per annum above the base rate of the Bank of England from time to time on the amount outstanding until you pay in full. All payments must be made in British Pounds unless otherwise agreed in writing between us. Make arrangements for the redelivery of the Goods and will charge you for the costs of such redelivery; and/or.
Inspection and Acceptance of Goods. We will be under no liability or further obligation in relation to the Goods if.
If you fail to provide notice as set above; and/or. You make any further use of such Goods after giving notice under the clause above relating to damages and shortages; and/or. The defect arises because you did not follow our oral or written instructions about the storage, commissioning, installation, use and maintenance of the Goods; and/or. The defect arises from normal wear and tear of the Goods; and/or. The defect arises from misuse or alteration of the Goods, negligence, wilful damage or any other act by you, your employees or agents or any third parties.
You bear the risk and cost of returning the Goods. As long as the Goods have not been resold, or irreversibly incorporated into another product, and without limiting any other right or remedy we may have, we can at any time ask you to deliver up the Goods and, if you fail to do so promptly, enter any of your premises or of any third party where the Goods are stored in order to recover them. We can terminate the sale of Goods under the Contract where. You commit a material breach of your obligations under these Terms and Conditions. You are or become or, in our reasonable opinion, are about to become the subject of a bankruptcy order or take advantage of any other statutory provision for the relief of insolvent debtors.
You enter into a voluntary arrangement under Part 1 of the Insolvency Act 1986, or any other scheme or arrangement is made with your creditors; or. You convene any meeting of your creditors, enter into voluntary or compulsory liquidation, have a receiver, manager, administrator or administrative receiver appointed in respect of your assets or undertakings or any part thereof, any documents are filed with the court for the appointment of an administrator, notice of intention to appoint an administrator is given by you or any of your directors or by a qualifying floating charge holder as defined in Para. 14 of Schedule B1 of the Insolvency Act 1986, a resolution is passed or petition presented to any court for the winding up of your affairs or for the granting of an administration order, or any proceedings are commenced relating to your insolvency or possible insolvency. Our liability under the Contract, and in breach of statutory duty, and in tort, misrepresentation or otherwise will be limited to this clause. Subject to the clauses above on Inspection and Acceptance and Risk and Title, all warranties, conditions or other terms implied by statute or common law (save for those implied by Section 12 of the Sale of Goods Act 1979) are excluded to the fullest extent permitted by law.
If we do not deliver the Goods, our liability is limited, subject to the clause below, to the costs and expenses incurred by you in obtaining replacement goods of similar description and quality in the cheapest market available, less the price of the Goods. Our total liability will not, in any circumstances, exceed the total amount of the Price payable by you. We will not be liable (whether caused by our employees, agents or otherwise) in connection with the Goods, for.
Any indirect, special or consequential loss, damage, costs, or expenses; and/or. Any loss of profits; loss of anticipated profits; loss of business; loss of data; loss of reputation or goodwill; business interruption; or, other third party claims; and/or. Any failure to perform any of our obligations if such delay or failure is due to any cause beyond our reasonable control; and/or. Any losses caused directly or indirectly by any failure or breach by you in relation to your obligations; and/or. Any loss relating to the choice of the Goods and how they will meet your purpose or the use by you of the Goods supplied. The exclusions of liability contained within this clause will not exclude or limit our liability for death or personal injury caused by our negligence; or for any matter for which it would be illegal for us to exclude or limit our liability; and for fraud or fraudulent misrepresentation. All notices under these Terms and Conditions must be in writing and signed by, or on behalf of, the party giving notice (or a duly authorised officer of that party). Notices will be deemed to have been duly given. Circumstances Beyond the Control of Either Party. Neither party shall be liable for any failure nor is delay in performing their obligations where such failure or delay results from any cause that beyond the reasonable control of that party. Such causes include, but are not limited to: power failure, internet service provider failure, industrial action, civil unrest, fire, flood, storms, earthquakes, acts of terrorism, acts of war, governmental action or any other event that is beyond the control of the party in question. No waiver by us of any breach of these Terms and Conditions by you shall be considered as a waiver of any subsequent breach of the same or any other provision. If one or more of these Terms and Conditions is found to be unlawful, invalid or otherwise unenforceable, that / those provisions shall be deemed severed from the remainder of these Terms and Conditions (which will remain valid and enforceable). These Terms and Conditions are governed by and interpreted according to English law. All disputes arising under these Terms and Conditions are subject to the exclusive jurisdiction of the English courts. Active since 2009 - CLI Manchester Limited are proud to be an independently owned company specialising in the supply of New and Pre-Owned Portable & Modular Buildings throughout the UK. We have large stocks of second hand Portable Offices, Classrooms, Canteens, Welfare Facilities and Drying Rooms. As well as Toilet Units suitable for site, sports club, event or camp site use.
A range of Jack Leg Cabins, Anti-Vandal Portable Buildings Modular Buildings are always available. This item is in the category "Business, Office & Industrial\Material Handling\Warehouse Loading & Unloading\Warehouse Forklifts & Stackers". The seller is "climanchester-ltd" and is located in this country: GB. This item can be shipped to United Kingdom.
Brand: JCB
Lowered Mast/Lift Height: Less than 76.2 cm
Power Source: Diesel
Maximum Mast/Lift Height: 381 - 406.4 cm
Custom Bundle: No
Forklift Type: Telehandler
Load Capacity (kg): 2723 - 3175 kg
Modified Item: No
Tyre Type: Cushion (Solid)

---